EVERY DONATION MATTERS
Internet for Humanity is a Non-Profit Society incorporated in British Columbia, and registered with Canada Revenue Agency (CRA) Charities Directorate
(#80887 4549 RR0001).
Donations are eligible for CRA or IRS charitable contribution receipt. Donations of $20.00 (CAD or USD) or more per year will receive a charitable donation receipt in February of the next year.
DONATE VIA PAYPAL (WITH LOWEST DONATION SERVICE FEE TO I4H)

DONATE VIA CANADA HELPS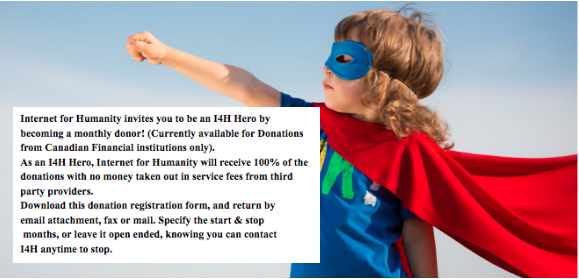 Contributions by cheque:
Donations by cheque (CAD or USD) may be made out to: "Internet for Humanity"
Please send donation cheques to:
Internet for Humanity
Box 52020
Beacon Ave RPO
Sidney, BC, Canada V8L 5V9
To receive US tax deduction receipt:
US currency donations can be made by mail via USD cheque (preferable), or online via PayPal (but not via CanadaHelps *).
US-origin donations payable to Internet for Humanity Qualify for IRS Tax-Deduction through LOVEM Ministries, a 501(c)3 registered US Charity. LOVEM Ministries has adopted Internet for Humanity Society as one of its ministries; and grants US Internal Revenue Service Tax-Deductibility on our behalf.
LOVEM Ministries deducts ZERO service/handling fee; thus 100% of your donation supports Internet for Humanity projects. Internet for Humanity / LOVEM Ministries tax-deductibility acknowledgement letters are sent in February of the next year.
(* CanadaHelps is a separate CRA-registered Canadian Charity. Donations to CanadaHelps automatically receive CRA charitable-contribution tax-receipts (from CanadaHelps, not I4H), and are therefore not eligible for LOVEM Ministries IRS tax deduction.)